Dear Teachers,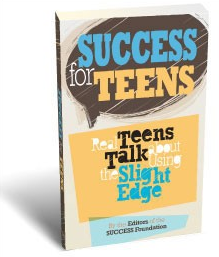 If you could give your students a book that could change their lives, would you assign it on your reading list?
It's back-to-school season, as you may know, it's not always easy to inspire some students. As a teacher, you have probably felt the disappointment seeing your students demonstrate a..
Lack of participation
Lack of effort
Lack of motivation to succeed in life
Now imagine...seeing your students take charge of their lives and finally achieve the greatness you always knew they were capable of achieving.

Imagine...seeing that light switch on their eyes, the light that shows they finally understand that their goals are easily achievable if they just made that first step.

Imagine...being the one that gave them the book that helped them do it.
Success for Teens: Real Teens Talk About Using the Slight Edge gives students the tools they need to tap into their inner potential. It is an inspiring, easy-to-read book packed with short, descriptive stories about everyday teens that have used the principles taught to become successful.

Have you heard about the inspiring project that the students of Saints Academy accomplished after reading just the fourth page of Success for Teens?

Read their letter below:
Dear Mr. Coye,
After reading the story of Kyle Freas,(page 4) using his time to help children, I was inspired to show our students that they too, could be heroes in our community. We started a food drive and collected over 500 items to help the needy in Winter Garden. We purposely did not send a flyer home because we wanted the students to use their own "mouth" to ask their parents, grandparents, and neighbors that they know, to help with our food drive. We wanted our students to see that they could make a difference. The end result is that we were able to make 50 bags of groceries to distribute in the poorest area of Winter Garden, (Zander Park). You see, "Success for Teens", is not only impacting our students but our community as well.
Why am I donating these books for free?
As a father of five children, I know that the teenage years are one of the most difficult and stressful times for most families.
Last year, when I came across Success for Teens I decided to offer a free copy to anyone who would find it helpful. The response was overwhelmingand I saw firsthand the amazing effect this book had.
If you are a teacher, or know a teacher, who could use this amazing book, click here now for more information.
We have a limited number of Success for Teens books so request yours now!
Sincerely,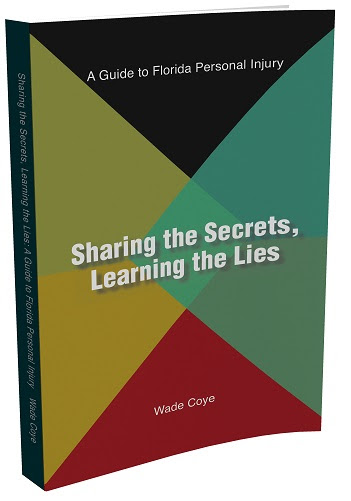 P.S. Get the brand new Second Edition of my book, Sharing the Secrets, Learning the Lies. My book reveals 37 secrets and 19 lies about injury law.
Click here for a free download.
Don't catch yourself saying "I wish I knew this earlier."