I'm Attorney Dan Smith and you probably know I'm a huge football fan.
Wade is in Michigan, getting sworn in to the Michigan Bar to help a client so I thought I'd take the lead this week to talk about the best time of the year - Football Season!
My family watches football every

Sunday

, but we're not your average football-viewing bunch.
My dad is a huge Packers fan and somewhere throughout the years
we have developed very specific "rituals"
that everyone must follow.
The Smith Family Football Rituals
1) No one can leave the room. If you do leave the room, you have to come back and then leave the room again before being allowed to sit down.
2) No texting allowed during the game, not even during commercials.
3) Games are always watched at my house.
4) Everyone has an assigned seat. Dad sits on the right side of the couch, I sit on the left side, and my wife sits in her own chair.
5) We watch the game 30 seconds behind (it's bad luck to watch it live).
6) Everyone must use a Packers coaster for their drink.
7) My Dad refuses to cut his hair or shave as long as the Packers are winning. He will only get a haircut or shave if the Packers lose a game.
8) My Dad visits a salon before a game to get a pedicure with green and yellow polish.
9) Our words can affect the game. So we yell "Turnover!" when the Packers are on defense, and "Touchdown!" when they're on offense.
10) Whenever Troy Aikman (ex-quarterback for the Dallas Cowboys and general enemy) is commentating a game, the TV volume must be turned down as low as possible.
Trey, my 1-year-old son is the only person exempt from our family rituals, but only until his 3rd birthday.
Does your family have any football rituals? Reply to this e-mail (Yes, this is Wade's e-mail account but he will pass on your messages to me). I look forward to to hearing them!

Thanks,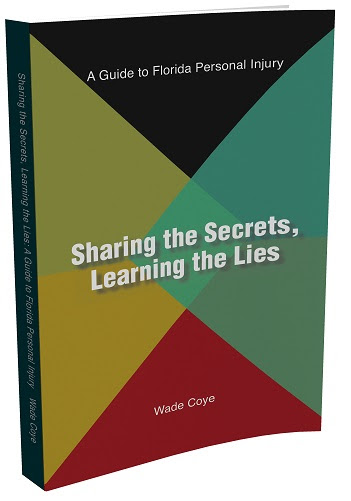 P.S. Wade's personal injury book
Sharing the Secrets, Learning the Lies
has
arrived from the publisher. If you would like a copy, click
here and we will mail it to you.