Today I want to share a secret...
When someone damages your vehicle, it normally places you in a difficult situation. As many people know, the value of a vehicle diminishes the moment you drive it off the car lot. If you get in a wreck shortly after you have purchased a car, it is very difficult to break even on the repair bills.
If your new car or fairly new car with a decent remaining value has been damaged, be sure to make a diminution in value claim.
Diminution in value is a damage appropriate when a car, usually worth over $10,000, had sufficient repair work following an accident which would cause a reasonable buyer to offer less than a similar car with no previous damage.
It is extremely rare for insurance companies to offer to pay diminution in value as a damage after your car has been repaired. Most insurance companies are probably hoping you don't mention it! And as a result, a lot of people miss out on thousands of dollars in damages.
A couple years ago, my wife's 1999 Toyota minivan with over 250,000 miles on it was near the end of its life. I decided she needed/deserved a new ride, so I bought her a Tesla.
She took possession of the Tesla at 1:00pm. At 4:30pm, while she was driving our daughter and her friend to volley ball practice, a woman ran a stop sign (texting and driving) and hit the Tesla's side, causing substantial damage.
The first time we called the insurance company, they initially refused to pay for the diminution in value. In the end, we had to hire an expert to canvas the market place to prove diminution in value before the insurance company paid. Now, my wife loves her NEW car!
If you would like to learn more secrets about diminution of value and property damage, you should put your name on the waiting list for my next report about property damage!
Click here to put your name on the waiting list now, when the report is ready I will mail you a copy – absolutely free. I hope you find it helpful.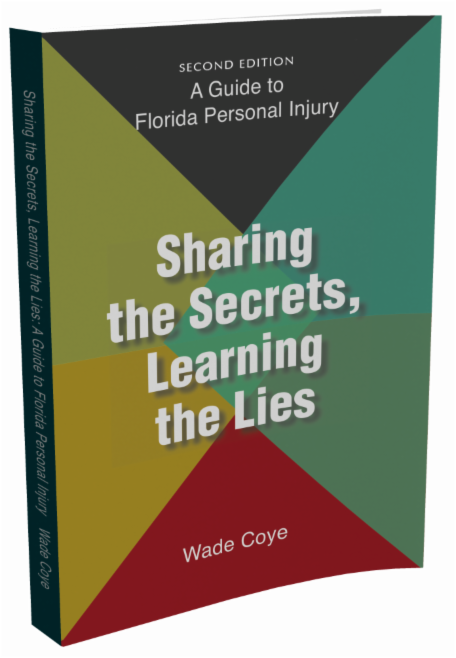 P.S. Get the brand new Second Edition of my book, Sharing the Secrets, Learning the Lies. My book reveals 37 secrets and 19 lies about injury law.

Click here for a free download.

Don't catch yourself saying "I wish I knew this earlier."